Originally published May 24, 2011
A few weeks ago, Petstages contacted us asking me if I was interested in reviewing their Easy Life Scratch Snuggle and Rest.  When I saw the photo and read the dimensions, I was concerned that it would be too small for Trigg and Charlie.  I do like many of their products like the Cuddle Coil and the Cheese Chase, so when they insisted, I told them to go ahead and send it.
I was pleasantly surprised.  Both cats love it and use it all the time.  Charlie is a bit big for it – but he wants to fit, so he tries and it's humorous.
It is just the right size for Mr. Trigg, though.
The Easy Life Scratch Snuggle and Rest is a corrugated cardboard bowl – that can be used as a cardboard cat scratcher or as a bed for cats.  It comes completely assembled – you just have to pull off the plastic wrap and grab the small bag of catnip that comes with it.
I set this in the kitchen next to the Sleepypod Crater Dot that the cats adore.  So they took turns sleeping in the Crater Dot or in the Easy Life Scratch Snuggle and Rest.  Charlie liked to use it to scratch on when he was waiting for food in the morning or when he was anxious about wanting to go outside.  He also sat on it and laid on it when he was feeling skinny.
I think this product is great.  The only things I would suggest to Petstages is to shorten the name of the product and to make a bigger one for bigger sized cats.  Charlie has lost weight, but Caymus for example, I doubt would fit on this.  Murphy weighs less than Charlie but is a longer and taller cat, so I wonder if he would fit.  That's why a larger one would be more ideal.  Also, I think it could be fun to have different designs that you could adhere to the outside of it to maybe pick a style that matched with your home.
As of May 2011, you can buy the Petstages Easy Life Scratch Snuggle and Rest on Amazon.com for $15.99 and it qualifies for Amazon.com's Free Super Saver Shipping on orders over $25.
Here's a video I took of Trigg on the Petstages Easy Life Scratch Snuggle and Rest.  He wasn't excited about me moving him.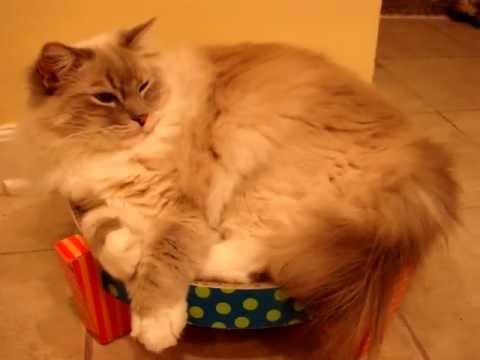 Category: Product of the Week, Recommended Products, Scratch, Sleep
Hi, I'm Jenny Dean, creator of Floppycats! Ever since my Aunt got the first Ragdoll cat in our family, I have loved the breed. Inspired by my childhood Ragdoll cat, Rags, I created Floppycats to connect, share and inspire other Ragdoll cat lovers around the world,