A friend of mine was telling me about her cats not using the litter box, and that she went to Petsmart to find out if there was a better litter.  She came across, Dr. Elsey's Cat Attract Cat Litter, bought it and said that she came home and emptied their litter boxes of the old litter and never had a problem again.
Eventhough Charlie and Trigg weren't having litter  box problems, I requested some Cat Attract™ from Dr. Elsey's Precious Cat Litters to see how they would react to it.
You can tell from this video below that Charlie was immediately attracted to it: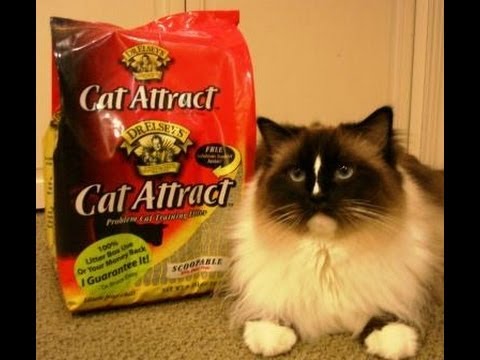 Cat Attract™ is a scoopable litter blended with a natural herb attractant that attracts cats to use the litter pan rather than using another place in your house.
This scoopable cat litter comes with a free booklet that aims to help cat owners solve their litter box problems with their kitties.
Benefits of Dr. Elsey's Cat Attract Cat Litter include:
Helps with your cat not using litter box
Hard clumping
All natural
Good for a multi-cat household
Works in sifting/mechanical litter boxes
Superior odor control
You can buy Precious Cat Cat Attract Problem Cat Training Litter on Amazon.com and have it sent directly to you:
If you want to run to a store near you that carries it.

Category: Poo, Product of the Week, Recommended Products
Hi, I'm Jenny Dean, creator of Floppycats! Ever since my Aunt got the first Ragdoll cat in our family, I have loved the breed. Inspired by my childhood Ragdoll cat, Rags, I created Floppycats to connect, share and inspire other Ragdoll cat lovers around the world,