Burnsville, MN
Gail Vettel, 651-587-0828
This is Hobbs' mother, Angelkissed Ragdolls' Cheetah Monkey.
CURRENT AVAILABLE KITTENS
Angelkissed Ragdolls Available Kittens
Angelkissed Ragdolls is located in Burnsville, MN (just outside of Minneapolis/St. Paul/Rochester/Fairbault). Ragdoll Breeder, Gail Vettel, can be reached at 651-587-0828, if you are looking for a Ragdoll kitten minnesota, Ragdoll cats for sale, a Ragdoll cat for sale, to buy Ragdoll cat or for buying a Ragdoll cat. If you decide to buy from her, you can mention being introduced to her as Ragdoll breeder through this website. Basically, just mention Floppycats.com and she will give you $25 off a Ragdoll kitten or $75 off two Ragdoll kittens (you will have to meet Gail's requirements for suitable adoptable parents, of course).
Gail has three cats that she breeds. Her King is Angelkissed Ragdolls' Captain Nimo (a Blue Bi-color). Captain Nimo is bred with Angelkissed Ragdolls' Queen Shiba (a Chocolate Colorpoint) and with Angelkissed Ragdolls' Queen Cheetah Monkey (a Seal Point Mitted Ragdoll).
I have visited Gail on two occasions. Once to pick up my Aunt Jean's cats, Maddie and Hobbs and then once by myself on the way to the Mayo clinic to see my doctor, Bryan McIver, M.B.Ch.B., Ph.D., about my thyroid disease. Gail has very beautiful cats and does a nice job with their rearing. She raises them all underfoot (they are raised in her home, not in a separate cat area), which is always something to look for in a breeder. You want your kitten coming to you as used to human sounds as possible–like vacuums, the television, the blender, etc.
My cousin Jill also has a cat from Angelkissed Ragdolls, Harlow.
When you buy a kitten from Gail, she will give you the following information about Ragdoll cats:
"Ragdoll cats are legend to have the souls of humans. When they look at you they look into your eyes and listen to what you have to say. This breed is known for their compassion and gentle loving nature. They are said to bring a positive energy into the household you bring them into. That's why they are very beneficial to those who may be somewhat depressed or may live alone. Ragdolls are very unique for the reason being that they accept dogs and consider them a playmate. They are very good with children and are a very docile and peaceful cat. There are many stories about where the Ragdolls actually came from. But no one really knows the exact origin. There are so many tales told that the actual origination has never been officially documented .Whatever they came from will always be a gift from the angels. Ragdolls have a wonderful coat with a rabbit like texture and because of that they do not matt up and tangle such as the other breeds, for example, Persian cats that need constant brushing. That's not to say they would not enjoy a good brushing. Ragdolls love to be brushed and will roll and roll with delight when getting the grooming. Brushing also helps in bonding because it is a kind of loving gesture to the cat. Ragdolls can live to be 20 yrs or even a tad more. My goal as a breeder is to preserve this breed's exceptional qualities, keeping the wonderful personalities and health by keeping the genetics strong by not inbreeding and line breeding. That is usually what will start a genetic defect. Many people still do not know what a Ragdoll cat is….But it seems when someone does meet one…the Ragdoll will put a footprint on their memory…and when someone finally owns their own Ragdoll that footprint will last a for the rest of that person's life…The Ragdoll truly is a remarkable breed."
Below you will find photos as well as videos of Angelkissed Ragdolls' cats and kittens.
Queen Cheetah Monkey (a Seal Point Mitted Ragdoll)
King Captain Nimo (a Blue Bi-Color Ragdoll).
Queen Shiba (a Chocolate Point Ragdoll)
Ragdoll blue Kitten
Ragdoll Kittens
Ragdoll blue point kitten
Ragdoll blue point kitten
Angelkissed Ragdolls' blue kitten
Below are videos I took of Gail's cats the last time I was there on July 28, 2008.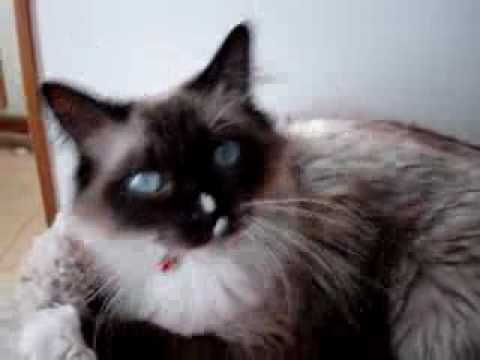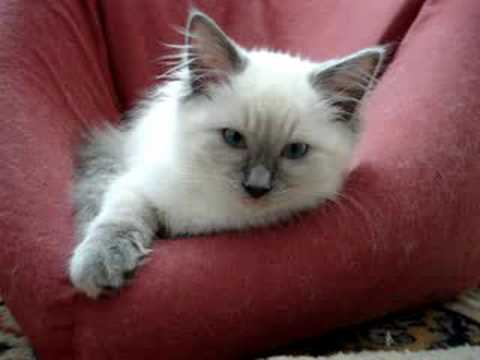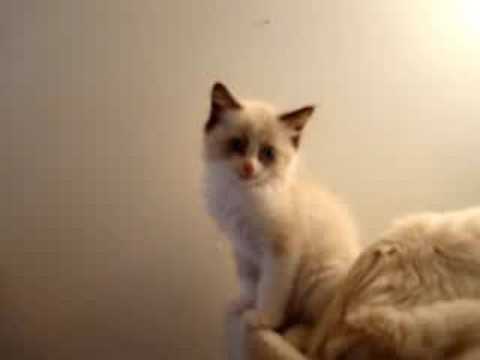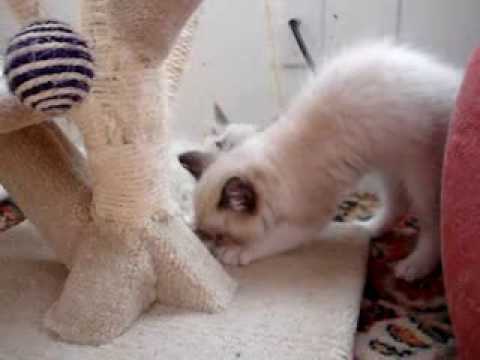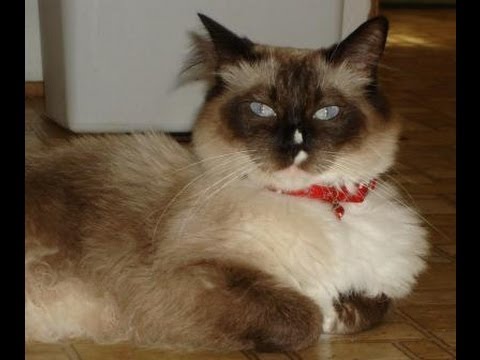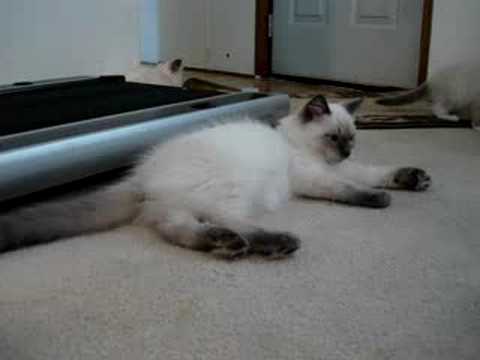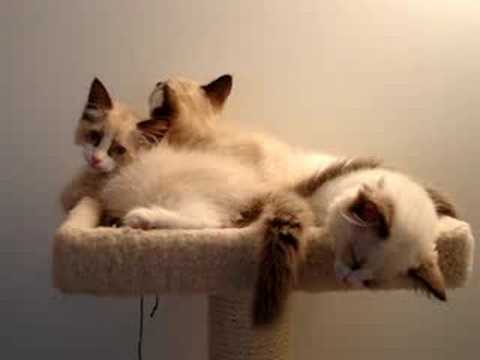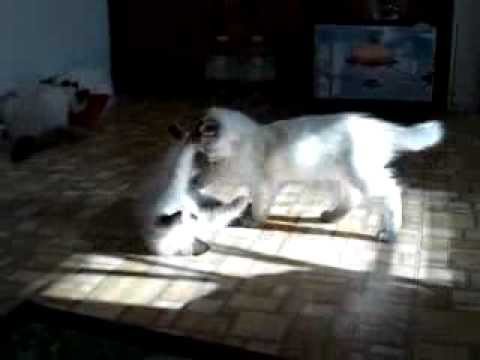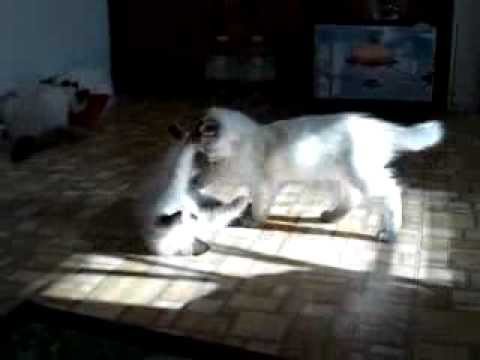 Meet more Ragdoll Breeders:
Category: Ragdoll Breeders
Hi, I'm Jenny Dean, creator of Floppycats! Ever since my Aunt got the first Ragdoll cat in our family, I have loved the breed. Inspired by my childhood Ragdoll cat, Rags, I created Floppycats to connect, share and inspire other Ragdoll cat lovers around the world,